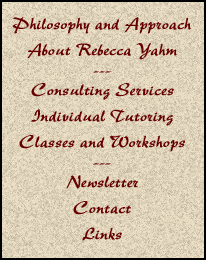 Participants are grouped developmentally for all classes and workshops. Age ranges are suggested and classes are geared toward the specified range. This is meant as a flexible guideline rather than a rigid age requirement.
These small group experiences can provide a context for social interaction among homeschooling children and teens while simultaneously enhancing the home study curriculum.
Classes and Workshops
Many successful classes and workshops have been offered to homeschoolers since September of 2003. Future classes may be offered in many of the following areas:
Math Concepts and Skills
Multi-session classes are designed to teach math concepts to children ages 5-15. Hands-on mathematical explorations and problem-solving tasks engage a variety of learning modes. Topics could include number sense, place value, patterns, multiplication and division, probability, statistics and graphing, geometry, decimals, money, pre-algebra, and algebra.
Book Discussion Groups and Young Writers' Groups
For ages nine and up, these groups are intended to provide older children and teens with a social context for rich experiences with language. They are an invitation for children with a love of books or writing to learn together with peers who have similar interests.
Integrated Place-Based Learning Programs
Thematic classes and long-term environmental projects integrate and develop many skill areas and academic subjects through hands-on learning experiences in the local environment. For children ages seven and up.
Hands-On Science Classes
These multi-session classes support children's natural tendency to investigate their world and try to make sense of it. Active learning experiences are organized around an appealing theme to create a fun and relevant context for older children to practice the skills involved in scientific experimentation and discovery.
Historical Simulations and Other Social Studies Projects
Rich social studies experiences enable children and teens to connect personally to other people, times, and places in meaningful ways. These projects engage students in actively exploring significant ideas, events, people, issues, problems, and places from history and different cultures and communities. Possibilities include dramatic recreations, debates, simulations of actual historical events, plays, living history, etc.
Other Class/Workshop Possibilities
~ Programs that combine several elements & academic subjects:
• Living Stories: An Intergenerational Project
• Homeschoolers I.N.K. (Investigating New Knowledge)
• The Game of Village
~ Workshops to develop projects of individual interest in a group context
~ Other suggestions welcomed!