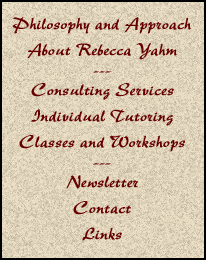 Research Projects Workshop
& Culminating Project Fair
Many older children and teens discover a new zest for information and an interest in questions about the world and diverse areas of knowledge. The ability to find and process information of interest can open doors to all kinds of learning. For some, the process of doing research and organizing and communicating information can be overwhelming at first. This class breaks down this process into manageable steps and provides instruction and support all along the way. Students are asked to choose a topic they want to know more about so that they will be willing to tackle the challenges that may be involved in the research and writing. Added motivation comes from the integration of hands-on, artistic representations and the goal of participating in a Project Fair. By working in a group setting, homeschoolers also get the benefit of learning from their peers and the inspiration this can provide. Since participants can choose topics that range widely through various fields of science, social studies, and even literature or mathematics, this workshop also provides an opportunity for rich content-area learning.
Students choose topics of personal interest to investigate during this 8-week class. They receive instruction and support to refine these topics to a reasonable scope, find information in books and other sources, and take notes on what they have learned. Next they are guided through the process of writing a report or other written work that conveys the ideas and information, complete with a bibliography. Students also create a visual display of some kind (poster, model, etc.) which communicates their learning. Most students will need to do some work at home in order to be ready for the Project Fair which will take place during the last class (or at another time if participants want to reschedule so that more family and friends can attend). An emphasis on the excitement of learning new things and sharing knowledge with others keeps the experience fun and low-stress. Students will be helped to use their strengths to assist them in new or challenging areas. Throughout the workshop, participants will have the opportunity to share their projects with one another, ask questions, and give and receive suggestions and ideas.
---
Board Games! A Playful Introduction to Research, ages 6-10

Most kids love games, and making your own is a fun way to share a subject you love. Children will choose a topic of interest to read and learn about. The fun facts they learn can become game cards, and the board can become a world to explore. Illustrations can bring the game to life. Or perhaps your child will create another way to make a board game that shares knowledge and excitement about his or her topic with others. This is an engaging and playful introduction to the process of researching a topic and communicating the information. Children of different ages and skill levels can approach this in their own way. Those new to reading and writing will need more parental support at home in between classes.