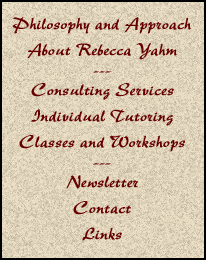 Both Sides of the Page:
A Writing and Literature Class
(ages 12-16)

The written word can be a powerful teacher. Those of us who love to read know the many ways books can teach us about ourselves and about the world around us. Anyone who has kept a journal knows that the process of writing can also lead to new insight, clarity, and self-awareness. This class, for young people who love literature and are interested in becoming better writers, looks at literature and writing from both the reader's and the writer's perspective.
The group will read and discuss diverse literary works written for both adults and young adults, including fiction, nonfiction, and poetry. Books chosen are well written, lend themselves to rich discussion, and are likely to appeal to the age range. Many are books that young people might not pick up on their own, or that can be understood at a much deeper level through discussion. The list is loosely organized around the theme of "Growing Up/Coming of Age," and reflects a variety of perspectives, issues, and backgrounds. Each person will read the books at home, keep a journal of his/her reactions, and come back to the group with questions or passages to discuss. Discussions will give students the opportunity to articulate their own thoughts and questions about their reading and to consider others' viewpoints, as well as pushing them to use the text to find evidence to support their ideas and introducing them to elements of literary analysis. In addition, we will view each work as a writing teacher, looking at the writer's choices, style, and techniques for ideas about our own writing.
Throughout the 12-week session, students will get feedback on their own writing, discuss writing strategies and aspects of the writing process, and experiment with a variety of writing approaches and techniques. Each participant will set at least one writing goal s/he wants to work on with the help of a supportive and encouraging teacher and group. Students will work at home on writing projects of their own choosing and bring these to the group for questions and input. Time will also be set aside for individual conferences for more focused teacher feedback and guidance. In order to get the most out of the class, each person will need to do some writing at home every week and be willing to read his/her work to the group on a regular basis. Each class meeting will also include a writing exercise designed to stretch students' capabilities. Some of these will use published writing as models or starting points for experimentation. During the last few weeks of the class we will draw on material from the response journals and book discussions to craft literary essays on compelling questions and ideas from the books we've read.

12 Wednesdays, 9/22-12/15 (skipping 11/24), 12:00-2:00
Richmond Free Library
Fee: $160
Possible books choices include:

- House on Mango Street, Sandra Cisneros
- The Chosen, Chaim Potak
- Betsey Brown, Ntozake Shange
- Anne Frank: The Diary of a Young Girl
- Ordinary People, Judith Guest
- A Separate Peace, John Knowles
- Very Far Away From Anywhere Else, Ursula LeGuin
- The Outsiders, S.E. Hinton
- Ender's Game, Orson Scott Card
- Whirligig, Paul Fleischman
- The Island, Gary Paulson
- Bad Boy, Walter Dean Myers
- Geeks: How Two Lost Boys Rode the Internet out of Idaho, Jon Katz
-selections from Growing Up Ethnic in America: Contemporary Fiction about Learning to Be American, edited by Maria Mazziotti Gillan and Jennifer Gillan
- selections from On the Fringe, edited by Donald R. Gallo